THE LOST IN TRANSLATION CIRCUS
Lost in Translation is one of the UK's leading contemporary circus companies. Our blend of high-level, dynamic circus skills within a character driven theatrical context and trademark warm humour has audiences howling in appreciation.
We create both indoor and outdoor ensemble-based performances, working with a tight-knit group of performers from Italy, France, Ireland and Australia. This results in extraordinary, multi-layered performances told through physical language.
Our performances are open and accessible to everyone. We have a deep desire to connect people, communities and cultures. We actively work to engage and develop new audiences through the performance – and by offering high quality outreach and educational activities in collaboration with our presenting partners.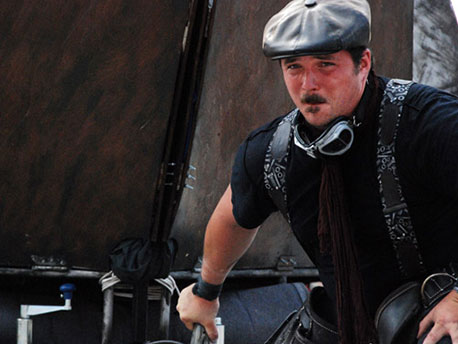 Company Director and Performer
Massimiliano grew up in italy, he always lived less than 500metres from the place where the circus would come to perform. He always been inspired by the possibility of ordinary people doing extraordinary things. He began his career as a street performer, having his first show in Portugal at the age of 18. Wanting to pursue performing further he enrolled in the National academy of theatre in rome, a theatre school based on the Le Coque method. However, his dream was still to be a circus performer so left Italy and auditioned to the Carampa Circus School in Madrid where he studied for 2 years for after furthering is education in Circus at the National Centre for Circus Arts in London for 3 years graduation with a BAhonors, specialising to be a catcher and strong man. Since graduating Massi has performed with several companies around the world, including No fit State circus, Magma us and Cirque Hirsute and established his own touring circus theatre company with Annabel Carberry since 2011. Massimiliano also continues to pursuit is work as a freelance and creative producer and director. Since 2018 he also became the founder and artistic director of the international circus festival Chapelfield summer circus, which brings to his Adopted home in Norwich, the best of the circus companies around the world including Lost in translation circus. Massi has also always been interested in teaching and developing circus discipline and support new performers in circus. In 2003 he began teaching juggling and acrobatics, and got a taste for sharing his skills, and since then he has continued to teach, create programs, and use circus to work with people of all ages. He worked with Let's Circus in Newcastle (UK) to help create an acrobatics program for the long term planning and creation of a circus school in New Castle, and worked long-term for Circus Space as a senior trainer for the youth program. In 2016 he founded with Annabel Carberry the Oak Circus Centre in Norwich, a centre for the development of circus arts and circus artists.
Company Director and Performer
Inspired by watching one of their shows, Annabel began her circus career at the tender age of 12, performing all over the world with the famous Australian youth circus, The Flying Fruit Fly Circus. She then followed her other passion and studied Creative Arts, majoring in visual arts, at Melbourne Uni, but circus was now in her blood, so she went to The National Institute of Circus Arts (Melbourne) to brush up her skills. She has since worked as a circus performer and teacher, artist, photographer and general organiser of projects. Annabel has performed with many circus companies, and as a solo and duo performer in festivals, corporate events, cabarets and burlesque shows all over the world.  She has also taught circus from ages 4 to 65 and to people from a wide variety of backgrounds. Annabel enjoys most initiating creative projects and helping them come to fruition. She has helped to create shows and exhibitions in the past, and is currently co-creating/managing and performing in projects of LIT Circus with Massimiliano.
Core Artist
Roisin is a highly skilled and experienced multi disciplinary circus artist. She has performed all over the world in an array of both aerial and acrobatic disciplines as a solo, duo and ensemble artist, on both stage and film.
In her youth, a highly decorated gymnasts enjoying a successful international gymnastics career, she held no 1 ranking, national and international titles throughout her senior competitive years. In the years following she discovered the world of dance and began a full time three year course achieving a diploma in classical and contemporary dance. It was on graduating dance school that she was first introduced to the world of circus and went to study at The National Centre for Circus Arts in London. There she achieved a first class B.A honours degree in Circus arts specialising in swinging trapeze.
As one of the original members of Lost In Translation Circus she has been working with her partner and director of the company Massimiliano Rossetti for the last 7 years. Uniquely, they are the only couple in the UK to perform the very rare discipline Russian Cradle and are current Guiness World Record holders. Setting the world record this summer for the amount of somersaults performed on the cradle in one minute! 16!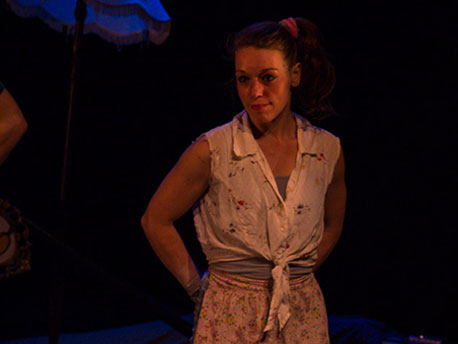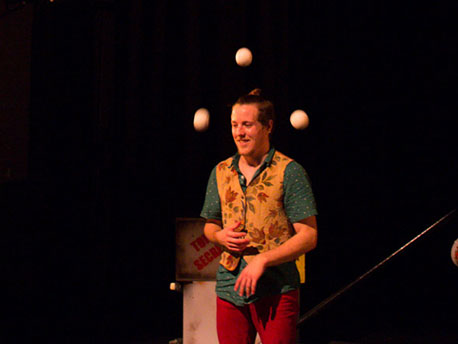 Core Artist
Having performed for over 8 years across the world with a wide variety of skills, Matthew is one of the most diverse and talented circus artists to come out of London. These performances include the main stage at The Royal Opera House as well as working alongside other big names such as Elton John and One Direction.Through his time at The National Centre for Circus Arts, where he graduated from with a BA Hons Degree in Circus Arts, he developed and honed his extensive variety of creative performance skills.The incorporation of dance and character/theatre work alongside his large repertoire of circus skills are key to his shows, ensuring an innovative and interesting performance that never fails to excite.
Core Artist
Tasha was a high level artistic and acrobatic gymnast for 10 years, competing regionally and nationally. After her competitive years she became a qualified gymnastics coach, and has been coaching a wide range of ages and abilities for the past 5 years. This led her to discover circus and specialise in hand balancing and aerial arts. Tasha is an active performer as part of the

Lost In Translation Circus

team and recently wowed audiences at the Circus250 launch party in Natural History Museum beneath the iconic skeleton of Hope the whale.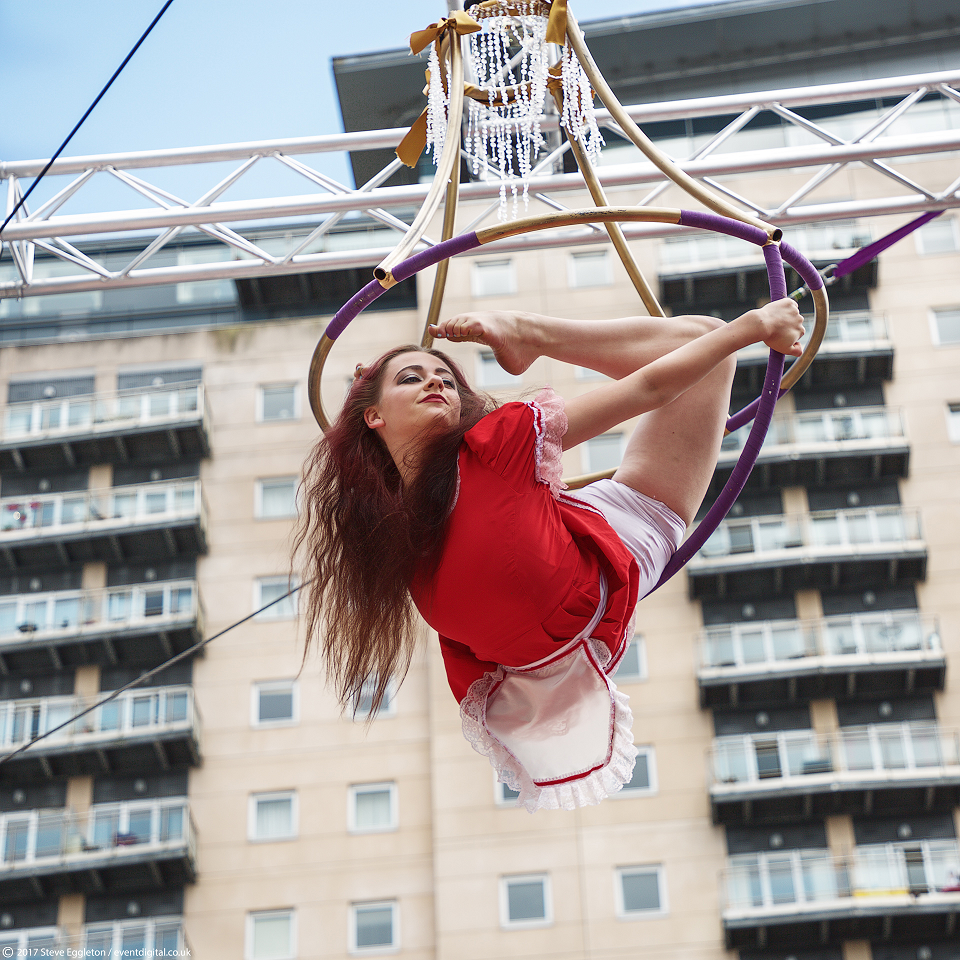 Core Artist
Lawrence is a circus performer and actor. He is a recent graduate from Circomedia in Bristol and The Oxford School of Drama. Since leaving education he has worked with Sin Tiempo in Lima Perú and performed in many plays around England. He Is now working with Lost in Translation circus in Norwich. His disciplines are handbalance and acrobatic base.
OTHER REGULAR COLLABORATORS
Peter Swaffer Reynolds: Project manager, Composer, musician, MD creator of the music of all Lost in Translation productions.
Flora Herberich: Flora is an essential collaborator of the Lost in Tranlsation Circus.
Andie Scott: Set and costume designer.
Christopher Dingli: Our Director for the succesful show the Hogwallops. Actor, director and creative.
Roger Eno: Composer, musician and MD creator of the music for the show Cirque Bordello.