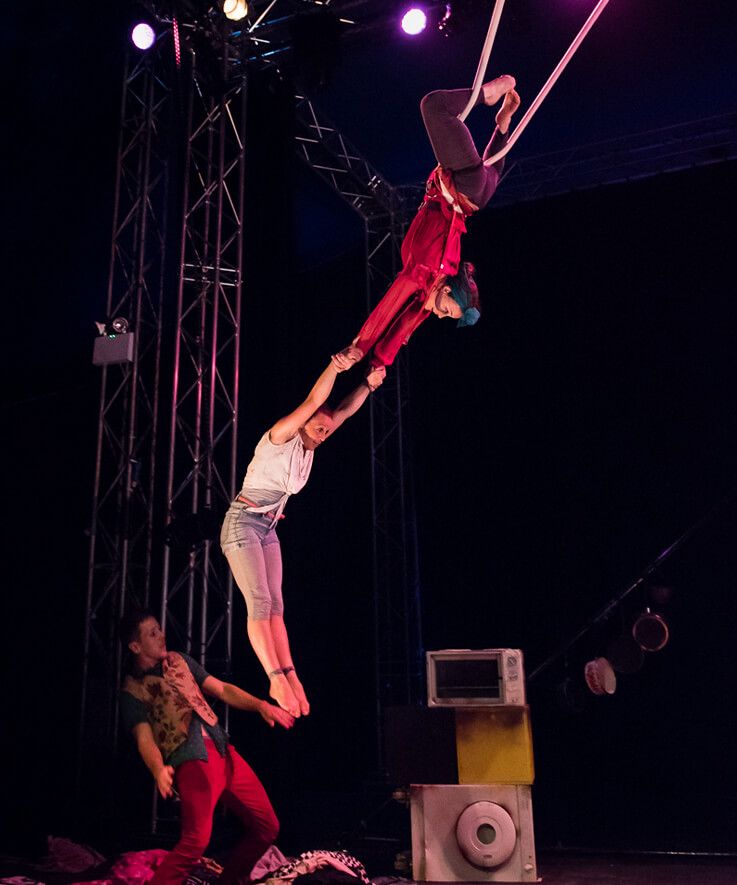 Spectacular circus skills blend seamlessly with physical comedy, narrative context and slapstick in this chaotic and colourful tale of a family of misfits.
Heart-stopping aerial and floor acrobatics combine with an original live score to create an absurd portrayal of everyday life.
Commissioned by Showzam! Festival in 2014, The Hogwallops is our longest running and most successful show to date. A big hit at The Edinburgh Fringe two years running, the show has delighted audiences in Tenerife, Belgium, Bermuda, Italy, France and literally all over the UK.
"A captivating, high energy show...brilliantly silly yet technically impressive."
Three Weeks
Inspired by Roahl Dahl's The Twits and Ettora Scola's film Bruti, Sporchi e Cattivi (Ugly, Dirty and Bad), The Hogwallops is a treat for the eyes and ears.
The hilarious family's antics create a crazy home that resembles an adventure playground where riotous, anarchic fun prevails.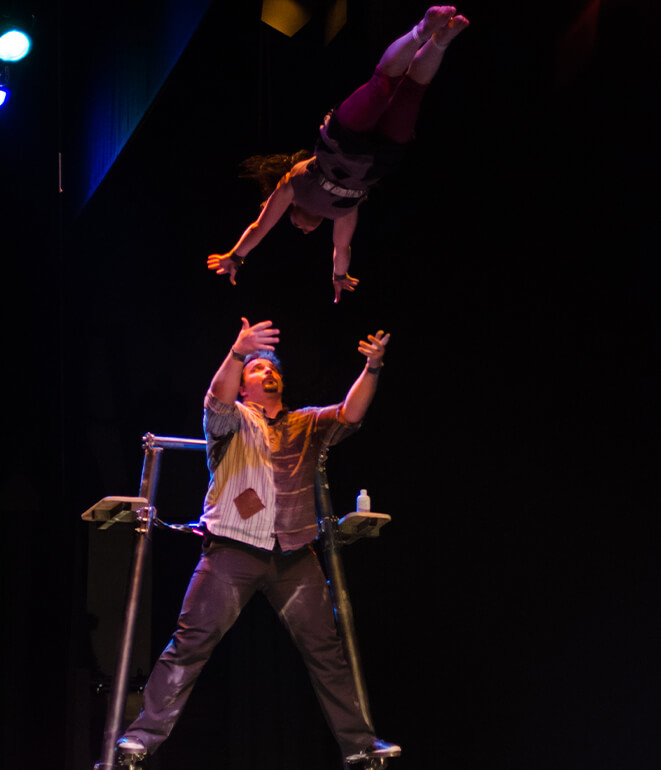 Everyday activities become triggers for mayhem!
Simple tasks like hanging out the washing become a tangle of swinging, flying bodies and fabric, dinner time becomes a teasing game of animalistic juggling and baking takes on dangerous proportions as the household furniture is precariously stacked and balanced on the roof.
The show's warm humour, with heart-stoppingly virtuosic skilful aerial and floor acrobatics, ensures thrills, gasps, laughs and drama for both adults and children to enjoy.
★★★★★
"My favourite family on The Fringe… one of the most anarchic, maniacal hours of circus, perfect'"
Mat Trueman, Fest