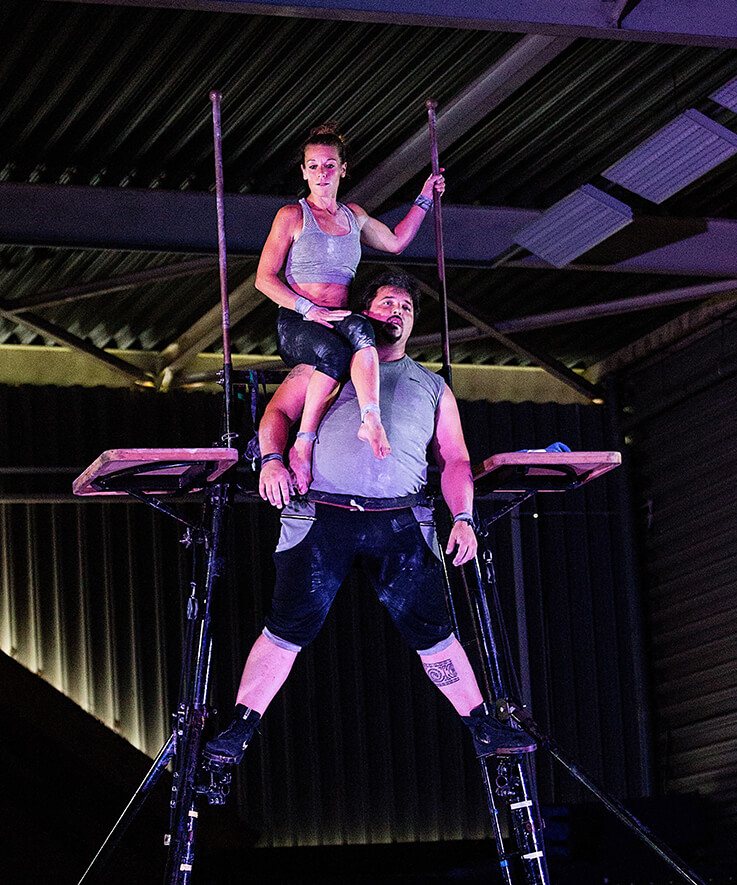 D'emblee is a live performance taking place inside a self-contained set, which doubles as a visual art installation.
The Concept. We use the performance and the set to explore two core themes.
Exterior & Interior worlds: This is explored through a meta circus perspective, the external performance persona, and the real person underneath. Everyone can relate this, but it is exaggerated through the performers experience and expressed structurally through the walls of the venue.
The outside walls are an exhibition about how the performers presents to the world and also how that translates to what the person presents to the world. It will be exaggerated, colourful, loud, over the top, and before the show begins the performers will introduce themselves to the audience in their public personas/characters, they will then invite the audience into their inner world, and present D'emblee.
Relationships: D'emblee is based on the close professional and personal relationship between the two
performers, Massimilano Rossetti and Roisin Morris. Their performance explores how people interact and
behave in a close relationship, what are their boundaries and reactions when those boundaries are pushed
The performance is intimate, stripped back and honest, inviting the audience to see the backstage reality and how the performers are as people.
Physical and movement-based, we've worked with choreographer Ella Robson, which has pushed us into a different direction to our previous work.